Dubai Waterfront: The World
The 10th of January the first part of Dubai's most interesting and impressive building was finished. Nakheel, the company behind projects as The Palms and The World, says in a press statement, that the last brick has been set to the 27 kilo metres long protective wall for the 300 small islands, representing The World.
Next step is to sell the new ground areas to building masters and other interested, to start the building of infrastructure and buildings.
Buyers of the separate islands get the land area as a part of the connecting water. It opens up for the possibilities to form the land area and freely match it after your own needs. That's why islands today, can look a curtain way, only to be changed in the future. In the land area, it's not allowed to shift the landmasses
Coral Island Resort
For the extremely wealthy and for those who not really find the "mainstream" The World enough far away from reality, Nakheel offers the Coral Island Resort.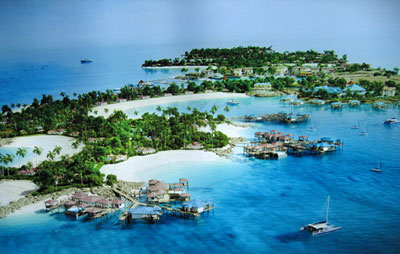 Placed close to North America, the group of islands are said to offer luxury and privacy, places to live near private beaches but at the same time close enough to rest of The World, not to be completely isolated.